In recent years, I have had the pleasure of two unforgettable visits to the Cape of Good Hope Nature Reserve. It is well-positioned near to the naval stronghold of Simon's Town, with its penguin-haven, Boulders Beach and makes for an ideal day trip from Cape Town.
Cape Point falls within the jurisdiction of the Table Mountain National Park (TMNP), under its southern section, within the Cape of Good Hope. It needs little introduction, as this is where visitors flock when they explore this natural haven. With eateries, gift shops, two lighthouses (one of which you can hike up to) and endless flora and fauna to appreciate, Cape Point is one of the best attractions near Cape Town.
However, when exploring this national park, many visitors overlook the Cape of Good Hope itself. It's the lesser known of the two Capes – but I think it is the reserve's best-kept secret! 🙂
Cape of Good Hope: Well-worth a Visit and Here's Why…
For those who don't know, the Cape of Good Hope has a rich, yet rather infamous history. The Cape Peninsula was first rounded by Portuguese explorer Bartolomeu Dias in 1448. However, due to its often terrible, unpredictable weather patterns, he dubbed it 'the Cape of Storms'. (Definitely an accurate name if you have ever experienced one of the Mother City's true winter storms…)
A decade later when Vasco da Gama navigated this same route, sailing down the African coast, he opened a new European trading route with India and the Far East. In light of this successful trade route's discovery, King John II of Portugal renamed it the 'Cape of Good Hope'. Adding a more positive name to this potentially prosperous new sea route.
Nowadays, these famous settlers and the successful trade route might be a part of our Cape history – but the Cape of Good Hope, a beautiful, yet treacherous rock promontory at the southern end of the Peninsula, remains untouched by the sands of time.
The only evidence of its modern world existence is the main sign near the edge of the parking lot that proudly proclaims "The Most South-Western Point of the African Continent".
Visitors eagerly clamour over to this sign to snap photos behind it. I am guilty of doing the same but I have also had the pleasure of properly exploring the Cape of Good Hope section on both of my visits.
Even though, on my visits, it was getting late when we reached the small, far humbler parking lot, there was a steady stream of cars coming and going. With the crashing waves to your right and some impressive cliffs to the fore, there is pure, rugged beauty to be witnessed here.
Mesmerised by Nature
When I first got out of the car, I immediately drifted just beyond the parking lot, near to the crashing waves that froth and foam. I stood there for a few good minutes, mesmerised by the natural sights and sounds of that wild place, before we were off to explore the other parts of the Cape of Good Hope.
Leaving the crowds behind at the sign, we made our way across to the nearby rocky, rusty-faced cliffs. These sharply loom up behind, looking proud and imposing in the otherwise flat terrain.
It was far stiller there, away from the main crowd. I found it fascinating peering up at the cliff face. This area grants you sweeping views of the vast land behind you (home to a group of mildly inquisitive ostriches who peek their long, soft necks over the fynbos, eyeing passing cars). Additionally, it also makes for a great photographic backdrop.
Standing Atop the Cliffs of Cape of Good Hope: The Most South-western Point of Africa
After we had also posed for photos – on my first visit in 2014, we bravely made the great ascent up to the heights above.
At first, the climb was tiring and zigzagging, with the icy wind lashing across our skin.
I was slow with the climb at first but as I neared the top, I needed no coaxing. The ocean views and the rocky outcrops dotted along the way are breathtaking in their wild forms.
Explore at Own Risk
Although visitors are seemingly free to explore the cliffs, as there is no initial fencing to cordon it off, you do so entirely at your own risk. Especially if you veer off the clearly marked, well-trodden path. (The more precarious parts are sectioned-off with fencing.) So just be advised that the reserve will not be held responsible for any accidents or injuries as a result.
Personally, I would also advise against taking children up to the top. It is dangerous and really not child-friendly. Even as an adult, you need to watch your footing and be careful with the strong gusts.
Having scaled mountains and rocky, fynbos-strewn hills since I was a child on our farm, I am pretty fearless and something of a mountain goat – even in sandals.
However, I was always conscious of the very present danger, especially so close to the edge of rugged, almost slippery smooth rocky outcrops and cliff edges.
Still, I was not deterred from exploring – and I am so glad I persisted.
Joy to Be Alive in Such a Fiercely Wild Place
As my travel companions happily snapped away with their cameras, I stood absorbing the moment, every technological or battery-powered device I had depleted. Although I love taking photos as much as anyone – in hindsight, I am glad I couldn't that afternoon.
Some places have to be truly seen and experienced with your own eyes to leave their fullest impression on the mind, body and soul. Both Cape Point and indeed the Cape of Good Hope itself are such places.
Truth be told, I reckon I left a part of my heart in that fiercely wild place. Somehow, it felt even more freeing and wild than the lofty heights of the Cape Point lighthouse and its surrounds. In fact, very rarely have I ever felt so alive in my entire life.
This was strangely ironic. Especially given how one false move or accidental carelessness could easily have seen me tumbling to my death.
Yes, I was cautious enough – but I was also far more daring than I usually am when it comes to heights like that. As if I drew courage from these harsh surroundings. It's hard to explain, really. I suppose it's just something you have to live through and experience firsthand to truly understand it.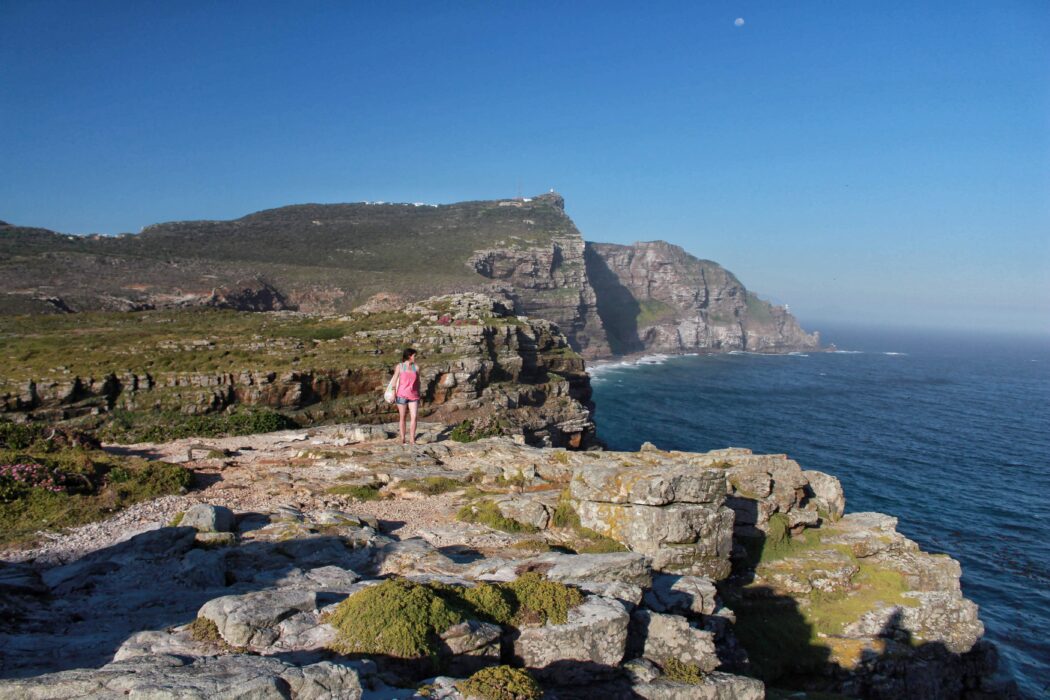 A Tourist Attraction for Locals and International Visitors Alike
After seeing how tourists from the world-over flock to this special, 7,750-hectare reserve to experience its untamed, utterly breathtaking views for myself – I feel that every South African – certainly, every resident of Cape Town or the Western Cape – should visit it at least once in their lives. For it is a truly once-in-a-lifetime experience!
Looking back now, the price paid and the miles travelled to get here are insignificant when compared to this larger-than-life natural wonder.
I am glad that I got to stand atop those cliffs. Sometimes far closer to the edge than I perhaps should have been. With the wind's invisible fingers tugging at my clothing and my hair.
It was more of a highlight than standing at the south-western point of Africa. Though, it goes without saying, that is something pretty cool to have experienced too!
I have ticked the Cape of Good Hope and Cape Point off my bucket list for now. Yet I am far from finished with that special place.
Fun Facts on the Cape of Good Hope Nature Reserve and Cape Point
– It was discovered by Portuguese navigator, Bartolomeu Dias during 1488 while he was on an attempted expedition to India;
– Due to his ship almost being wrecked nearby, Dias aptly dubbed it, 'The Cape of Storms';
– Vasco Da Gama – the first European to successfully reach India – sailed around the area in November 1497.
– After that expedition, King John II of Portugal felt that a more encouraging name would be 'The Cape of Good Hope';
– Many people often confuse the Cape of Good Hope with Cape Agulhas. However, Cape Agulhas is, in fact, the southernmost tip of Africa and the meeting place of the two oceans, Indian and Atlantic. The Cape of Good Hope is the most south-western point of the African continent;
– During whale season – generally from June to October – you can often see whales from Cape Point and the Cape of Good Hope;
– Cape Point is part of the Cape Floral Region. Which is "the smallest but richest of the world's six floral kingdoms". More than a thousand plant species, which grow nowhere else in the world, fall under this floral region;
– The reserve is home to +/- 200 bird species. These famously include the resident ostriches and cormorants;
– Other wildlife include within the reserve includes Chacma baboons, Eland, Red Hartebeest, Bontebok and zebra, as well as reptiles;
– The reserve has limited overnight accommodation. For more information on this, please visit their website.
– Aside from some great hiking trails, other fun outdoor activities include angling, picnicking and cycling all set against this impressive natural landscape;
– The area is rich in cultural and natural heritage. It is also a natural heritage site.
Contact Information
For more information on the Cape of Good Hope Nature Reserve, please contact +27 (021) 780 9010 or email info@capepoint.co.za. Alternatively, visit their website.
For pricing, gate opening hours and other info, please also see their website.
You can also connect with and follow Cape Point on Facebook, Twitter and Instagram.
Content writer by day and blogger by night, Tamlyn Ryan passionately runs her travel blog, called Tamlyn Amber Wanderlust - Travel Writing and Photography, from her home base of Cape Town, South Africa. Despite having a national diploma in Journalism and working as a content writer by day, Tamlyn's preferred niche remains travel writing.
Tamlyn is a hopeless wanderer, equipped with an endless passion for road trips, carefully planned, holiday itineraries and, above all else, an innate love for the great outdoors.